STARBOARD GO WINDSURFER 2023
Extra handling is 75$ for:
-Double boxing
-Handling
-Insurance
Description
The GO Windsurfer 165, 175 and 195 are our recommendations as a windsurfer's first board with more glide in non-planing conditions. Instead of a centre fin box, the GO Windsurfer features a fully retractable daggerboard that makes it easier to stay upwind and learn to windsurf, while being more versatile from light to windy and planing conditions.
Equipped with carry handles and a full EVA Deck it is the ideal entry-level and progressive board for everyone.
---
The GO 2023 are available exclusively in the new Starlite construction, a significant step up from the standard construction typically used in this price category: lighter weight, stiffer, tougher against impacts and with a crisper, more high-performance feel on the water. It uses a combination of 0.6mm Australian pine wood and glass fibres to combine premium technology with a quality finish in a value package.
---
GO WINDSURFER 165, 175, 195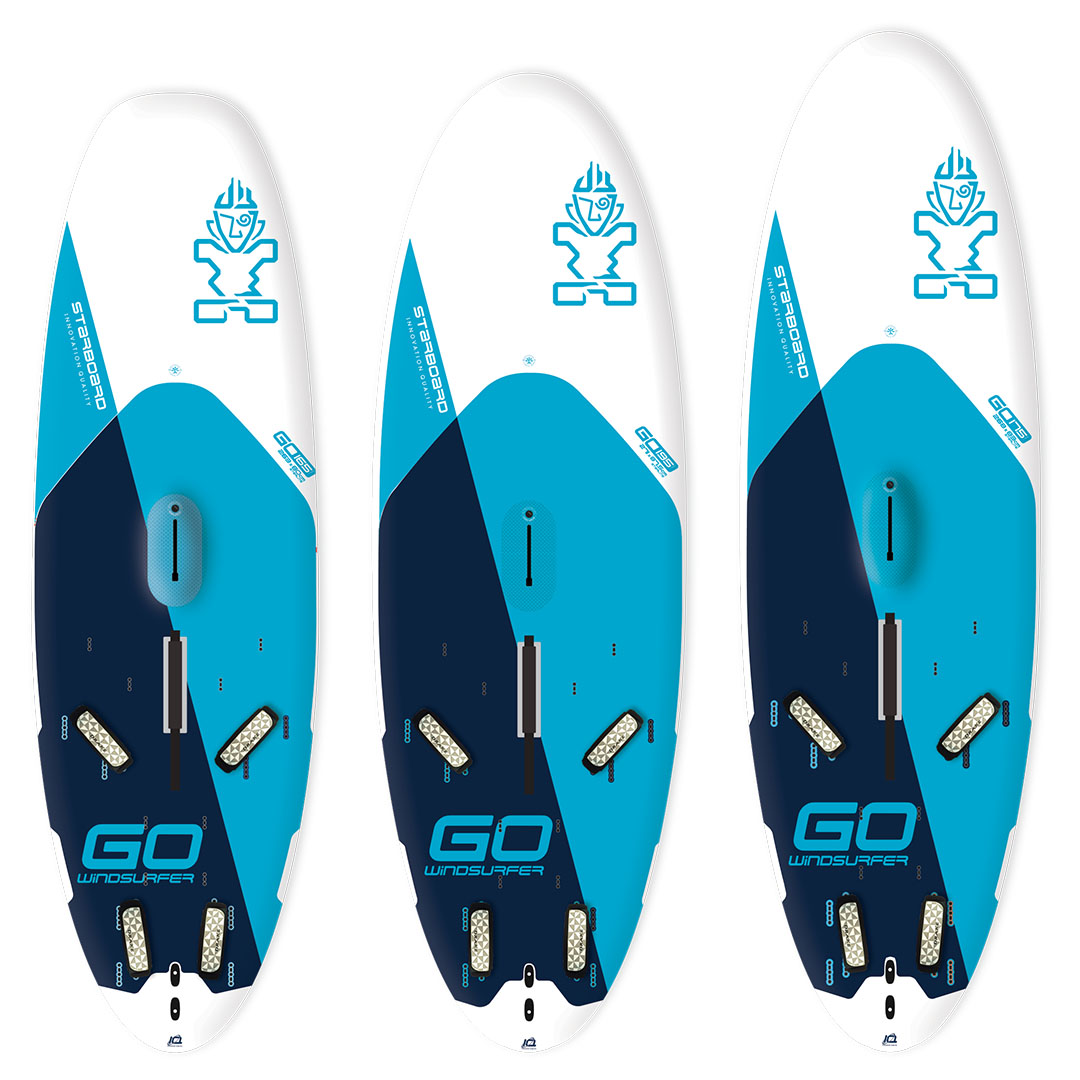 A highly efficient and low rockerline and an even volume distribution allows the GO Windsurfer to glide smoothly and fast in light winds, with lots of longitudinal traction. It also lets the board accelerate onto the plane smoothly and more easily than before.
The GO Windsurfer 165, 175 and 195 use our Clipperbox daggerboard system that clicks in and out and can be removed without tools. Position the daggerboard at 45 degrees and pull up to release. The water-sealing rubber lips are ultra-durable and can also be replaced without tools. Learning to windsurf with a daggerboard or centre fin makes it easier to stay upwind while providing additional roll stability.
| | | | | | GO WINDSURFER 165 | GO WINDSURFER 175 | GO WINDSURFER 195 |
| --- | --- | --- | --- | --- | --- | --- | --- |
| | | | | | Starlite | Starlite | Starlite |
| | | | | | 165 l | 175 l | 195 l |
| | | | | | 263 cm | 268 cm | 271 cm |
| | | | | | 80 cm | 83 cm | 87.5 cm |
| | | | | | 52 cm | 54.1 cm | 56.7 cm |
| | | | | | 11.2 cm | 14.8 cm | 14.6 cm |
| | | | | | Flat V | Flat V | Flat V |
| | | | | | 2 | 3 | 3 |
| | | | | | Drake Freeride Power 48 | Drake Freeride Power 50 | Drake Freeride Power 50 |
| | | | | | ClipperBox Daggerboard | ClipperBox Daggerboard | ClipperBox Daggerboard |
| | | | | | Tuttle Box | Tuttle Box | Tuttle Box |
| | | | | | ClipperBox | ClipperBox | ClipperBox |
| | | | | | 42 – 50 cm | 48 – 54 cm | 50 – 56 cm |
| | | | | | 4.0 – 9.0 m2 | 4.5 – 9.5 m2 | 5.0 – 10.0 m2 |
| | | | | | 13.03 kg | 13.40 kg | 14.12 kg |
*Center fin not included with the board accessories for the models GO 122 – GO 133 – GO 144 – GO 155