BIC/TAHE BREEZE PERFORMER ISUP 2021 (10'6"X33"X4.75")
999.00 CAD$
In stock
Description
10'6″ BREEZE PERFORMER
The 10'6 Performer AIR complete package is the ultimate all-water board for both flat-water cruising with family and friends as well as surfing ocean waves. The 10'6 works great for novice riders up to 200lbs/90kg.
This COMPLETE PACKAGE includes rigid inflatable board, adjustable paddle, safety ankle leash, backpack, high-pressure pump with gauge, repair kit, deck bungee for gear storage, carry handles at center, nose and tail, tie down o-rings at nose and tail, "yoga-mat" style traction pad for comfort and grip.
Our unique SUP AIR construction technology features a dual layer stringer and side rails for rigidity combined with rugged drop-stitch panels to reduce weight without sacrificing durability.
Ideal for
Flat-Water and Wave Surfing for Riders up to 200lbs/90kg
Those with Limited Storage and Transport Space
Lightweight (23lbs/10.5kg) AND Durable Construction
Summary
The Breeze 10'6 Performer Inflatable Package is lightweight surf and flat-water board for riders up to 200lbs/90kg
TECHNICAL SPECS
Code107195

ModelBreeze

Length10'6″ / 320 cm

Width33.0″ / 84 cm

Volume235 L

Thickness4.75″ / 12 cm

Max Riders Weight200 lbs / 90 kg

Handle TypeNeoprene

Inflatable PSI15 PSI

Finbox Configuration Set UpSingle US Box

Supplied fin(s)Dolphin 8″

Product TypeInflatable

TechnologySUP AIR

Country of manufactureChina
PACKAGE INCLUDES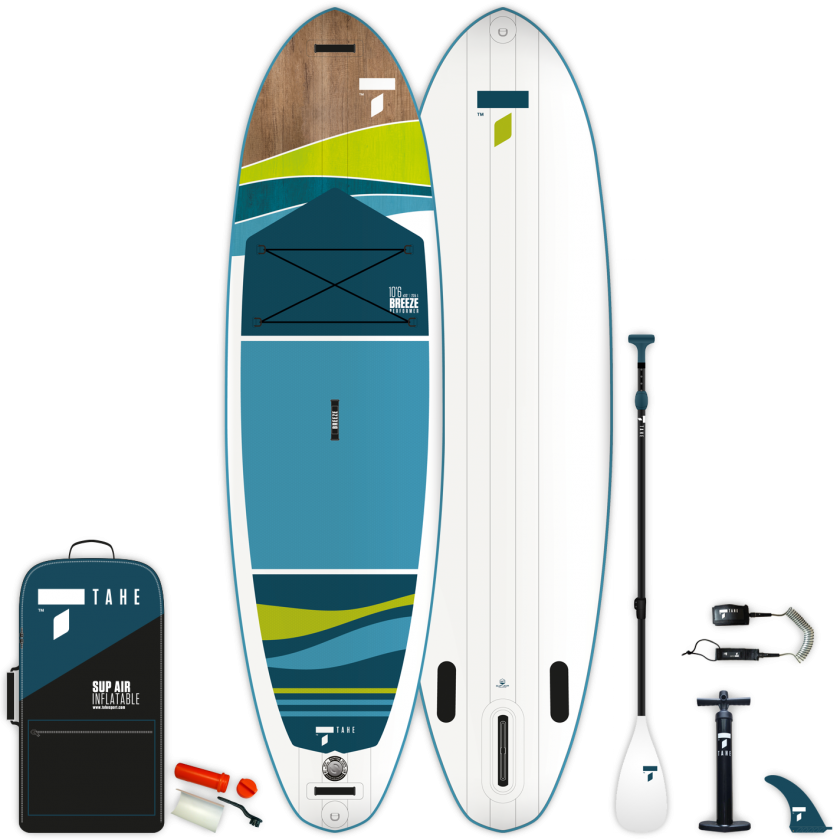 THE 10'6″ BREEZE PERFORMER COMES WITH:
1x 10'6″ Breeze Performer Board
1x Removable FCS II CONNECT dolphin 8″ fin
1x Adjustable Paddle
1x Carry-All Backpack
1x Ankle/Calf Leash
1x Hi-Pressure 2-Way Inflation Pump with Gauge
1x Repair Kit